Giving Thanks for ALL That Volunteers Can Do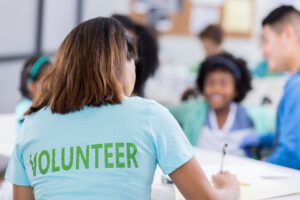 With the Thanksgiving holiday just around the corner, the spirit of thankfulness is in the air! I'm extremely thankful for all the organizations we get to work with all year long, but there's a soft spot at Adisa for the magical ones we call V-O-L-U-N-T-E-E-R-S.
Most of the organizations Adisa partners with wouldn't be able to offer the level of programs and services they do for the community without the support of volunteers who donate their precious time and talents. When engaged well, volunteers allow organizations to expand their reach, increase diversity of backgrounds and skills, and often provide a different (and sometimes overlooked!) viewpoint than staff, making the organization stronger and more sustainable.
Think about it, is there really anything the right volunteer for the task can't do?
The Power of Volunteer Energy
Volunteers do phenomenal work. They are not the low level helpers checking off mundane to-do lists like their stereotypes suggest. Afterall, did you know that almost 70 percent of America's firefighters are volunteers, and 85 percent of the nation's fire departments are all or mostly volunteers? Volunteers run into burning buildings and provide life-saving CPR. Volunteers are the doctors working with Doctors without Borders, and National CASA (Court Appointed Special Advocate) volunteers are sworn in by judges to be advocates for children and youth who have experienced abuse or neglect, many of whom are in foster care.
Volunteers are all of us! Professional, caring people ready to make a difference.
It's up to organizations to harness the power of volunteer energy to help achieve their missions. Doing so takes infrastructure, resources, and most importantly, strategy, but before we dive into how you can reap the benefits of volunteer magic, let's look at how the pandemic has transformed the way we're working with our communities.
What Happened with Volunteers and the Pandemic?
Since the beginning of 2020, volunteer efforts were significantly impacted — sometimes for the better with more volunteers being engaged virtually and spontaneously. But too many organizations who were hit with unfamiliar territory, sadly, felt they had to put their volunteers on hold. This left a huge workforce idled and waiting. Organizations were hurting because they needed the magic of volunteer energy, and volunteers were hurting because they wanted to help the causes they are so passionate about, but couldn't.
What Happens now?
Volunteers are an incredible source of renewable energy to help us meet our missions. As we look to the future and begin to recover from the upheaval of the last two years, we need to challenge ourselves to make the most of all our communities have to offer. Organizations that strategically engage their community members as volunteers are going to reap the most benefits, including:
> Being significantly more adaptable, sustainable, and capable of going to scale [1]
> Accomplishing their mission as their peers without volunteers, but at almost half the median budget. [1]
> Reap up to a $6 return on every dollar invested when considering the financial value of volunteer involvement. [2]
In order to reap those benefits, there are four things every organization needs to, strategically, do well.
If you want to make the most of your volunteer involvement…
1. Design meaningful volunteer roles
Relationships start with volunteers by knowing what we want them to accomplish for our organizations. Volunteers bring many different skills and backgrounds, and when involved strategically, they are not simply an extra set of hands. Ask yourself what gaps you see that need to be bridged. What programs do you want to add? What do your clients need that you're not currently able to offer?
Look at where you want to grow and design meaningful, actionable roles that will propel you towards your goals.
2. Include staff in designing volunteer work
Your staff's buy-in matters tremendously — they need to see the support of volunteers enhancing their efforts, not stretching them thinner or creating more work. Research I helped conduct in 2020 found that employees having poor experiences with volunteers report being more stressed, overworked, less committed, and more likely to quit. When employees have bad experiences with volunteers, it leads to unnecessary stress. The good news is that when volunteers are engaged strategically and supported, they improve staff morale and increase productivity.
Getting staff involved in designing volunteer roles from the start will help determine where help is truly needed and increase the likelihood staff will embrace the benefits and support volunteers have to offer.
3. Recruit the right volunteers
When hiring staff, we don't just hire anyone who applies regardless of their skills or experience, right? We take time to consider the necessary skills, attitudes and experiences of the person who would be right for a position and then recruit accordingly. This same approach should be applied to volunteers. Simply because someone wants to volunteer doesn't mean they are the right fit for your organization or the work that needs to be done. Ensuring you have the right volunteer in the right role sets everyone up for success and significantly reduces the chances of issues in the future.
A volunteer who is in the right role for their skills and interest is also much more likely to stay involved with the organization, reducing turnover and increasing continuity.
4. Support your volunteer engagement professional
This one may be the most important of all! To reap the magic of volunteers, your volunteer engagement professional — manager, coordinator, director…whatever their title – needs to be well supported and treated as the professional they are. In most organizations the volunteer coordinator is leading the largest workforce — volunteers! Yet, they are often not included in organizational planning or considered part of the leadership team.
Ensure your volunteer engagement professional is included in key organizational decisions and give them a seat at the management table. They will be better positioned to ensure the organization has the human power it needs to achieve its goals.
There is a radical energy in the work that volunteers can do for our organizations.
When you embrace the enormous potential of volunteers and engage them strategically, the sky's the limit on what your organization can achieve. So this season, show your volunteers the thanks they truly deserve — by using their talents and passions to their fullest potential!
Would you like to take your volunteer involvement to the next level? Adisa can help you strategically engage volunteers to meet your mission through assessments, training, and expert guidance. Let's talk!
Sources:
[1] TCC Group, Positive Deviants' in Volunteerism and Service: Research summary
[2] Points of Light Blog, Where Should Nonprofits Use Volunteers? Everywhere