Embracing Change in the New Business Planning Landscape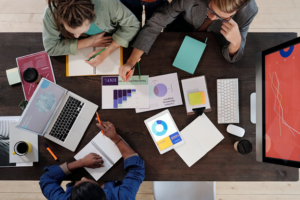 Planning for a new business year stirs a faint echo of back-to-school memories for me. I can almost hear the crack of stiff new textbooks being flipped open (and that wonderful smell!) and feel that remembered anticipation as new clothes were laid out for that very first day of school. Each fall brings renewed eagerness, hope, and a little apprehension: Will next year be your best year ever?
This fall, more than ever, you'll need to embrace anticipation and acknowledge apprehension as you plan for 2022 in a still-unsettled business landscape. The dips and rises of the pandemic curve have permanently influenced ways of working. Some of the rapid changes organizations made in 2020-21 have been surprisingly successful at reducing costs, increasing efficiency, and improving employee well-being. By accepting the likelihood of continued unpredictability, your business or organization can remain flexible and open to new innovations that can lead to growth in 2022.
Unprecedented opportunities arise from drastic change
According to psychologists, the best time to change a long-held habit or belief is when you are working through a major life change — and COVID-19 certainly qualifies! It's been called a "9/11 moment" for border management and health services as they address public safety. Animal welfare organizations compare the pandemic to the change swept in by Hurricane Katrina. Animal organizations formed new alliances to shift humans and animals away from danger, reunited missing people and pets, and transformed human and animal sheltering with the swiftly passed PETS Act.
If there is a silver lining to disasters and other major life changes, it's that they derail existing habits and create an entirely new context, opening the door to new solutions.
3 questions to consider in your business planning.
Innovators suggest that you ask yourself three questions while planning for 2022 in a pandemic-influenced world:
How does your organization bring in funds?
Who do you depend upon to drive your business?
Most importantly, what stakeholder behaviors will cease, change, or bounce back after the pandemic?
At Adisa, our team is looking closely at stakeholder behavior in our guidance to other organizations, as well as in our own planning.
What behaviors are returning, mostly unchanged?
Nothing has escaped the pandemic entirely unscathed, but you are probably seeing a surprisingly swift return to normalcy in these key behaviors:
In-person decision-making. You resigned yourself to making high-level decisions using the phone or Zoom meetings in 2020-21. However, at Adisa, we are now once again receiving requests for face-to-face group planning sessions. Leaders want to get their teams back in the same room to mine their expertise. In a Forbes Insight study, 85% of people said they build strong, more meaningful business relationships during in-person meetings and conferences, and 75% prefer greater social interaction. Personal connections are critical to develop a team identity.
Air travel continues to reign. Humans travel for work, love, necessity, or adventure. While TSA checkpoint numbers for 2021 are still lower than 2019, they are now twice as high as 2020. Travelers are returning to the skies to connect with colleagues, friends and family, having grown accustomed to managing the risk of proximity to other people in their daily lives.
People are cautious but excited to be working together again, although it may take time for pandemic anxiety and social awkwardness to fade away. As I was preparing recently for our very first in-person meeting since the pandemic began, I discovered I'd forgotten logistical tasks that previously had been second nature to me. I felt a bit like a lost cat who had been running feral: excited to be home but having to relearn being around humans again.
What behaviors have been transformed?
The pandemic has lingered long enough businesses and   have been able to test and learn what new ways of working have been more of a success than a barrier.
Remote working skyrocketed from a perk to a necessity, and many employees have proven they can manage their work responsibilities from home. Remote work generates office space savings, reduces commuting costs, and workers report they are more relaxed and productive. Telework is expected to remain widespread, and 58% of workers say they would "absolutely" look for a new job if they can't continue to work remotely.
Attention to wages, care benefits, and employee retention. The jolt of the initial pandemic shutdown caused people to reevaluate the role of work in their lives. The lingering worker shortage indicates they are placing a higher value on sufficient wages, care benefits, flexible schedules for family responsibilities and work enjoyment. To reach talented applicants who are looking for more than just a paycheck, employers are pushed to build a culture that values their employees' overall well-being both in and out of the workplace.
New ways of working that have proven to increase efficiency will remain.Telemedicine exploded as regulatory barriers loosened, increasing health care access and reducing costs. The San Francisco SPCA has even sued the state of California to keep veterinary telemedicine in place. Animal shelters embraced "virtual adoptions" that tabled traditional face-to-face adopter evaluations. Curbside service at bricks-and-mortar businesses increased access for people with mobility or time restrictions. While some organizations will be glad to welcome everyone back inside their doors, many will morph their new ways of working into an improved hybrid practice.
What behavior will face constant challenges?
Claiming change can't happen quickly. "Great idea — too bad we don't have time" has been proven to be an unacceptable dismissal. Every worker has now experienced rapid change firsthand and wonders what else is possible. How much larger can a business grow if you no longer need to plan to purchase or rent a building? How diverse might your workforce become now that remote work is mainstream? What new, ambitious goals can your organization now consider to be within the realm of possibility?
Consider widening your planning discussion
If the mix of excitement and apprehension is holding your business planning back instead of propelling it forward, widening your organization's perspective with a group discussion can help. At Adisa, we help organizations both embrace and look beyond uncertainty and navigate to a place of growth for their leaders, teams, and volunteers. Let's talk!