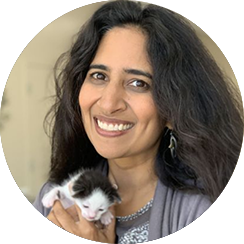 Jyothi V. Robertson, DVM, DABVP (Shelter Medicine)
ADVISOR
Dr. Robertson is an internationally recognized specialist in shelter medicine who has spent the past fifteen years focused on creating efficient processes, improving organizational structure, utilizing statistics to influence policy choices, and enriching facility design to minimize animal stress while improving overall animal health and well-being. Pre-veterinary medicine, Jyothi studied anthropology and education, examining cultural and race dynamics while performing fieldwork in Asia. This work has influenced her approach to conversations in animal welfare as she consults with organizations. It also led to her designing her life to allow for international travel while custom-schooling and creating curricula for her three children and other youth. Her passion project for the past 2 years has been the development of the Journey You Own, a platform for weaving spirituality and awareness through highlighting social injustice, animal welfare, the climate crisis, and education reform. Jyothi is a principal consultant for the firm Adisa.
Dr. Robertson possesses extensive board and management experience at both the state and national level. Jyothi is on the Diversity Equity Inclusion (DEI) committee for the Human Animal Support Services (HASS) and on the Executive Committee of HASS which is reframing animal sheltering within a One-Health and DEI context. As Chair to the national Animal Welfare Committee for the American Veterinary Medical Association she has the opportunity to guide animal welfare policy nationally and also co-chaired the subcommittee on Access to Care. She served on the Executive Board of the Association of Shelter Veterinarians for six years and is currently on their DEI task force. Her passion for statistics earned her a position with the Advisory Board of Shelter Animals Count in its early stages. Jyothi was a Delegate to the House of Delegates for the California Veterinary Medical Association for two terms and continues to be on their Animal Welfare Committee. These volunteer appointments, along with her other contributions in national endeavors, have guided her in her collaborations with diverse populations to impact change.
Dr. Robertson was the Medical Director for Oakland Animal Services for multiple years during the pursuit of a Residency in Shelter Medicine through the Koret Shelter Medicine Program and while starting her consulting business as JVR Shelter Strategies. She completed her veterinary degree and residency from UC-Davis and her undergraduate degree from Princeton University. Jyothi conducted research for 20 years on topics ranging from Lyme disease to obesity. She is boarded with the American Board of Veterinary Practitioners in Shelter Medicine. Jyothi resides on Ohlone and Ramaytush land with her husband, three children, two dogs, one cat, and tortoise.